Aloo Anar Ki Chaat
(Cook with Harish)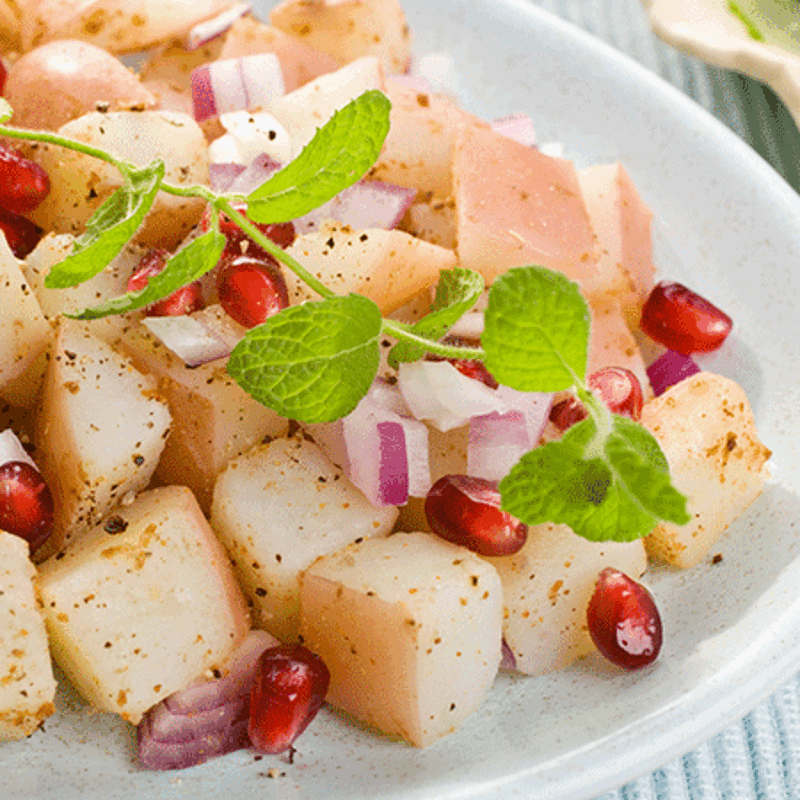 This salad is basically made from two ingredients: aloo – potatoes and anardana – pomegranate… spiced with tangy indian spices. The salad is tart in taste due to lemon juice, but also has a sweet taste due to the pomegranate,
Ingredients:
2 medium sized potatoes, boiled and diced
½ cup pomegranate arils
1 small onion, finely chopped
1 medium size tomato, finely chopped
1 tbsp chopped mint leaves
a few mint leaves for garnish
For the dressing:
¼ tsp red chili powder (optional)
1 tsp chaat masala powder
1 tsp roasted cumin powder
2 tbsp lemon juice
1 or 2 tbsp sunflower oil or peanut oil
black salt or pink salt or regular salt as required
Instructions:
In a bowl, add the diced potatoes, onion, tomatoes, pomegranate arils, chopped mint leaves and mix gently.
Mix all the ingredients for dressing.
Check the the seasoning and add more of the spice powders if required.
Mix all the spice powders with the lemon juice and oil.
Pour the dressing in the bowl and mix gently.
Serve the salad warm or chilled.
Garnish with mint leaves while serving.
---
---